Hijazi Arab in United Arab Emirates
The Arabic desert voices of the Hijazi tell much about their lives and culture as they roam the harsh deserts of the UAE with their camels, sheep and goats that provide their main source of livelihood. Sitting around open fires outside their tents generally made from woven goat or camel hair, they often recite poems or sing songs accompanied by a lute (oud), flute or drum while relating stories about their history or lives. The women are particularly skilled in this art. Although they have few possessions, one that is important is their coffee cooking pot. The majority consider manual labor jobs as degrading. However, more of them are accepting wage-paying jobs in urban regions to improve their lives with better housing, medical and educational opportunities.
Ministry Obstacles: The Hijazi Arabs strongly identify with the Islamic religious system and they are nomadic. These are key reasons why they are not being reached for Christ.
Outreach Ideas: Committed Christians can provide the Hijazi with gospel recordings, fine-tuned Bible radios and biblical stories of Jesus.
Scripture Focus: "Therefore let it be known to you that this salvation of God has been sent to the Gentiles; they will listen."
- Acts 28:28
Prayer Focus Pray for this people group to hear and to accept the message of God's salvation. Pray for a serious, planned effort by caring followers of Christ to reach the Hijazi so they can have the opportunity to allow Christ to bless their families and communities. Pray for them to have a spiritual hunger that will lead them to the cross.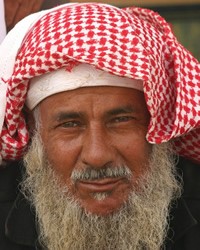 | | |
| --- | --- |
| People Name | Hijazi Arab |
| Country: | United Arab Emirates |
| 10/40 Window: | Yes |
| Population: | 389,000 |
| World Popl: | 11,295,000 |
| Main Language: | Arabic, Hijazi Spoken |
| Main Religion: | Islam |
| Scripture: | Unspecified |
| Online Audio NT: | No |
| Jesus Film: | No |
| Audio Recordings: | Yes |
| Christ Followers: | Few, less than 2% |
| Status: | Unreached |
| Progress Level: | |